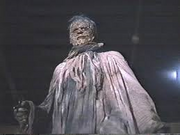 Nanautzin was an Aztec mummy that served as the main antagonist in Legacy of Terror.
Background
Edit
Known Victims
Edit
Lenny Strahan
Staff Sgt. Rolf Anderson
Capt. Madge Timmins
Officer Earl Lyons
Appearance
Edit
Unlike villains in other episodes, Nanautzin did not actually kill any of his victims. They were murdered by his followers in his name.
Portrayed by Stuntman Mickey Gilbert
Ad blocker interference detected!
Wikia is a free-to-use site that makes money from advertising. We have a modified experience for viewers using ad blockers

Wikia is not accessible if you've made further modifications. Remove the custom ad blocker rule(s) and the page will load as expected.