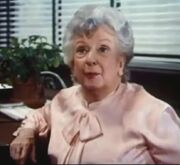 ==Biography==
Ruth McDevitt was an American actress who portrayed Miss Emily Cowles on Kolchak, the Night Stalker. She had a career that spanned over forty years. She was born Ruth Thane Shoecraft and studied to be dramatic actress. However when she married Philip McDevitt she left the profession until his death in 1934. Although she mostly acted on television later in life, she also performed in radio, theatre, and film. Ruth McDevitt passed away in Hollywood, Ca. on May 27, 1976 at age 80
Selected Filmography
Edit
Mister Peepers (TV Series) - Mom Peepers - 1953-1955
The Parent Trap - Miss Inch - 1961
The Shakiest Gun in the West - Mrs. Olive Heywood - 1968
The Andy Griffith Show (TV Series) - Mrs. Pendleton - 1968
The Ghost & Mrs. Muir (TV Series) - Mrs. Rodman - 1968
Angel in My Pocket - Nadine - 1969
Love, American Style (TV Series) - - 1970-1972
Kolchak, the Night Stalker - Miss Emily - 1974-1975
One of My Wives is Missing - Rebecca Foster - 1976
The Cheerleaders - Grandmother Snow - 1976
Ruth McDevitt's first appearance on the series was in the premiere episode, The Ripper, before she was cast as Miss Emily. In this episode she portrayed a nosy neighbor to the villain who wrote to Miss Emily asking for advise.
Ad blocker interference detected!
Wikia is a free-to-use site that makes money from advertising. We have a modified experience for viewers using ad blockers

Wikia is not accessible if you've made further modifications. Remove the custom ad blocker rule(s) and the page will load as expected.