Introduction
Edit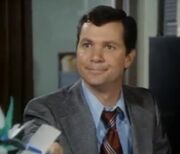 Sergeant Orkin was a detective on the Chicago Police Department
Background
Edit
Sergeant Orkin was a newly transferred detective from Edgewood working his first case in Chicago when he met Carl Kolchak. He spotted Kolchak picking up evidence at the scene of an unidentified corpse and they introduced themselves. He knew of Kolchak by reputation and had heard his superiors call him a "pinwheel", but decided to make his own assessment. He even allowed Carl to accompany his officers while they tried to identify the body.
After returning to the office he made the mistake of telling his Captain that he thought Carl was a decent guy. The captain laughed in his face. When he returned to his desk, someone had placed a pinwheel on it with a note: "A Pinwheel for a Pinhead".
When Carl came with his outrageous explanation on how to solve the murders, Orkin was furious. He chased Carl out of his office and also threw the pinwheel at him.
Carl decided on some payback by giving Orkin's name and information to Bella Sarkof, a matchmaker, who wouldn't leave him alone.
Appearances
Edit
Portrayed by Dwayne Hickman (The Many Loves of Dobie Gillis)
Ad blocker interference detected!
Wikia is a free-to-use site that makes money from advertising. We have a modified experience for viewers using ad blockers

Wikia is not accessible if you've made further modifications. Remove the custom ad blocker rule(s) and the page will load as expected.