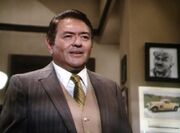 ==Biography==
Simon Oakland (August 28 1915 - August 29 1983) was an American actor. He played Tony Vincenzo in The Night Stalker, The Night Strangler and Kolchak: The Night Stalker. He was the only main cast member that appeared in the entire origninal Night Stalker franchise. Very active in live theatre, he made guest appearances in many television series as well as some film work. He died, of cancer, one day after his 68th birthday.
Selected Filmography
Edit
Psycho. – Psychiatrist – 1960
Murder, Inc. – Det. Sgt. William Tobin – 1960
West Side Story – Schrank – 1961
Bullitt – Captain Sam Bennett – 1968
On a Clear Day You Can See Forever – Dr. Conrad Fuller – 1970
The Night Stalker – Anthony "Tony Vincenzo – 1972
The Night Strangler – Anthony "Tony Vincenzo – 1973
Kolchak, the Night Stalker – Anthony "Tony Vincenzo – 1974-1975
Black Sheep Squadron – Brig. Gen. Thomas Moore – 1976-1978
Was a skilled violinist.
Ad blocker interference detected!
Wikia is a free-to-use site that makes money from advertising. We have a modified experience for viewers using ad blockers

Wikia is not accessible if you've made further modifications. Remove the custom ad blocker rule(s) and the page will load as expected.